---
Room 86--An improvement on Mozart
---
One of Mozart's most famous pieces is the Rondo alla Turca, which is a movement from his Piano Sonata No. 11 in A, K. 331. If you don't know what a Rondo is yet, you might want to go back to Room 20 and learn about it. Return to Room 20 now!
This is a very popular movement by Mozart, and if you've never heard it, you can familiarize yourself with it now. Listen!
As the old saying goes, "You ain't heard nothin' yet!" Here is a picture of Russian-born pianist Arcadi Volodos.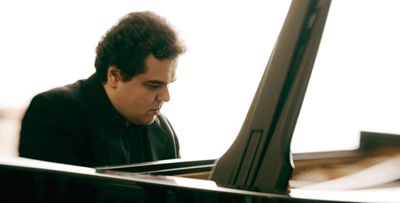 He is one of today's towering virtuosos with gigantic technique. Now listen to his arrangement of the same Mozart Rondo. Notice how he combines the various themes simultaneously. Get ready for an incredible experience. Listen!
Return to classroom second floor.

Return to classroom first floor..

If you need to leave, Go to initial page of site.
If you are interested in advertising a music-related business in the pages of the classroom, please send us an e-mail regarding rates by clicking here.