---
Room 85--Introduction to Camille Saint-Saëns
---
First nobody knows how to pronounce his name. First of all, the n and t are silent in the first part of his name. The "ai" sound is pronounced like the "a" in "sad." The "ae" in the second half is like the "o" in song. The "n" is nasalized. Got it? Anyway, talk to someone who speaks French.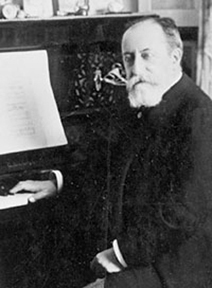 Saint-Saëns was born in Paris, France. His father died three months after his son's birth. His mother, Clemence, sought the assistance of her aunt, Charlotte Masson. Charlotte moved in and introduced Saint-Saëns to the piano. He was unbelivably talented. He discovered he had perfect pitch at the age of two and began piano lessons with his great-aunt at that time.
He almost immediately began composing. His first composition, a little piece for the piano dated 22 March 1839, is now kept in the Bibliothèque nationale de France. His precociousness was not limited to music, however. He had learned to read and write by age three and mastered Latin by seven!
His first piano recital was given at age five, when he accompanied a Beethoven violin sonata. He went on to begin in-depth study of the full score of Don Giovanni. In 1842, Saint-Saëns began piano lessons with Camille-Marie Stamaty, a pupil of Friedrich Kalkbrenner, who had his students play the piano while resting their forearms on a bar situated in front of the keyboard, so that all the pianist's power came from the hand and fingers and not the arms.
As a child, he also studied geology, botany, archaeology, and butterflies.
At ten years of age, Saint-Saëns gave his debut public recital at the Salle Pleyel, with a performance of Mozart's Piano Concerto No. 15 in B-flat major (K. 450), and various pieces by Handel, Kalkbrenner, Hummel, and Bach. As an encore, Saint-Saëns offered to play any one of Beethoven's 32 piano sonatas by memory! Quite a feat for a ten-year old. But today he is almost forgotten as a pianist, even though he wrote 5 piano concertos. He composed music in all media, including opera. His two most famous pieces are: The Carnival of the Animals and the Symphony No. 3, also known as the "Organ Symphony," a truly spectacular and monumental work. Altogether he wrote over 300 compositions. Here is a sample of one of his tone poems known as Omphale's Spinning Wheel. The inspiration comes from a story told by Ovid, where the hero Hercules is punished for an "inadvertent" murder by being forced to work as a slave for Omphale for the period of a year. He is forced to do women's work, wear women's clothes, and hold baskets of wool while Omphale and her maids work at the spinning wheel. This sound is made quite clear in the music.
Return to classroom second floor.

Return to classroom first floor..

If you need to leave, Go to initial page of site.
If you are interested in advertising a music-related business in the pages of the classroom, please send us an e-mail regarding rates by clicking here.