---
Room 80--John and Katia
---
John Mc Laughlin has been one of the greatest guitarists of the last forty years, in a variety of syles. If you want to hear him do the "rock" thing, find the album Birds of Fire by The Mahavishnu Orchestra. Listen to the track called Sanctuary. Keyboard player was Jan Hammer (before the Miami Vice days). There was also electric violin and drums. It was a frightening ensemble. Way ahead of its time. John is on the left in this photo.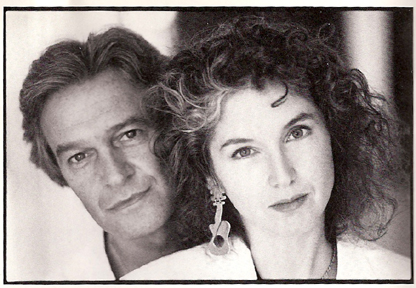 The lady in the picture is his girlfriend, Katia Labèque, one of the sister-duopiano team The Labèque sisters. When I worked in radio, they used to come by the station, and when I would see them I would say, "Itís my two favorite faces." They were delicious young French ladies, and when they played the Two Piano Concerto by Luciano Berio with the LA Philharmonic, I remember Martin Bernheimerís comment- -"They played like inspired demons." Katia and Marielle have made a number of great recordings.
Anyway, John and Katia made a recording where they could show off and this is a piece by John called "Montana." They both do a great job. Listen!
Return to classroom second floor.

Return to classroom first floor..

If you need to leave, Go to initial page of site.
If you are interested in advertising a music-related business in the pages of the classroom, please send us an e-mail regarding rates by clicking here.