---
Room 62--Is this any way to play a trumpet?
---
Jazz in classical music? Why not? Gershwin did in Rhapsody in Blue. Ravel did it in the G major Piano Concerto. So did many others. See if you can find the Concerto for Jazz Band and Symphony Orchestra by Rolf Liebermann. Thatís a tough one to find, perhaps about as hard as the Tap Dance Concerto by Morton Gould. Both are great pieces and undeservedly unavailable on recording. Listen to this if you want to hear a sexy bit of music for trumpet and orchestra, and it's played by trumpeter Alison Balsom. Alison Balsom
The music was written in 1949 by Henri Tomasi and it is the Nocturne from his Trumpet Concerto.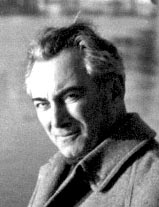 Henri Tomasi
Return to classroom second floor..

Return to classroom first floor..

If you need to leave, Go to initial page of site.
If you are interested in advertising a music-related business in the pages of the classroom, please send us an e-mail regarding rates by clicking here.